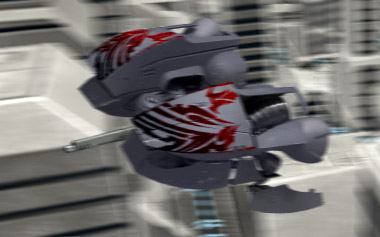 Fabien Sanglard's non-blog



SHMUP
October 19th, 2010
Introduction
March 14, 2001: SHMUP has received a stellar review from shmupemall.com, you can read the article here (archive here).

"SHMUP" is the name of a multiplayer 3D shoot'em up I wrote for iOS platform (iPhone/iPad/iTouch). I couldn't find a decent 3D shooter on the AppStore so I decided to write a game that I would enjoy. The goal was to produce a gorgeous, instant fun game that would run on iOS, PC and xBox360. Its 3D engine was crafted with C, passion and a bit of assembly to deliver an incredible 60 frames per seconds on any platform.

A lot of efforts were made and time spent thinking the 3D engine, the gameplay and the ships (here is an example of one of the many concept arts for the HAB: Heavy Armored Bomber):



An other early concept art:
I hope you will enjoy it ;) !
Screenshots
Video
Credits
I worked on "SHMUP" for more than 18months but plenty of people contributed at some point. Here is the list of people that were significantely involved.


Credits
Producer
Fabien Sanglard
3D engine and code
Fabien Sanglard
Graphics
Fabien Sanglard
Music
Future Crew
3D artists
Phil Walker
Mike Jensen
Sean Weisman
Special Thanks
Jeremy Vernet
Soojin Yi
Aurelien Sanglard
Music
The music may sound familiar to oldschoolers. It comes from one of the greatest hack of all time: "Second Reality" by Future Crew. Yes a deal was signed so I could use the music.
Technique
I will be writing several technical entries in the next months, a few things that will be covered:
IPhone video generation.
How the visible surface determination is performed.
Memory management
The choice of the language: C vs C++.
Genesis.
Add a comment
Comments (16)
#1 - Josh - 11/28/2010 - 02:27
Hello. The game is beautiful and has great sound. The virtual joystick, however, is very inaccurate. Could you implement relative swipe controls with auto-fire? Special attack could be activated with a double-tap. I also noticed there was no scoring, which is unheard of in shooters. Maybe Openfeint or GameCenter? Lastly, I don't understand why there is only one ship with no continues. If it were a score-run game like Phoenix it would make sense, but not a stage-based shooter. I hope you continue development, as I think this could be a great game. Thanks. :)
#2 - maigron - 11/28/2010 - 09:32
Bonjour Monsieur le concepteur de Shump,

Rien en français...............???? Why, Pourquoi ????
Difficile a utiliser pour debutants même avec bcp de volonté.
Je suis sure que cela va arriver.

Grand Bravo flap flap pour la démo.
#3 - ERadk - 11/30/2010 - 21:08
Hello Fabien, I just downloaded the game. Great stuff, thanks for making it! I do have to agree with the comment made by Josh though. The virtual joystick is a hindrance. I have played about ten or so IPhone shmups and I do believe the relative touch controls (relative swipe controls) work best for a shmup with a touchscreen device. If you haven't seen Cave's DoDonPachi Resurrection and Espgaluda apps check those out, they nail the interface in my opinion and are great games. If you changed that you'd have a top-shelf game. Love the visual nods to Ikaruga btw. Take care.
#4 - Kloo - 12/02/2010 - 06:03
Salut!

Je viens de me procurer ton jeu et de le noter une étoile sur l'appstore à cause de la maniabilité. Comme il l'est dit dans un autre com tu devrais t'inspirer de la maniabilité de dodonpachi résurrection ton jeu gagnerait en crédibilité. Et puis c'est dommage car il n'a pas l'aire mauvais du tout. Et un score aussi sa pourrait être cool. (bon après ces ton jeu tu fais se que tu veux)

Bon courage.
#5 - jeremy - 12/03/2010 - 08:09
Salut Fabien,

Vraiment pas mal du tout ce jeu!!
Bon, j'éprouve quelques difficultés à passer les boules avec des piques noirs.
J'ai vu que tu t'étais trompé je crois sur Spécial Thanks > Sanglard Fabien au lieu de Sanglard Aurélien

J'espère que tu vas bien!
Quand est ce que tu reviens en France?

Bise

Jérem!
#6 - WM - 12/11/2010 - 11:42
Hi Fabien,

Your game is great - I too have struggled to find a good shmup on the iPhone. However, I really struggled with the controls. Here is the review I just submitted to iTunes:

"This game is so close to being amazing, but it has a single fundamental flaw which forces me to give it 3/5 instead of 5/5. The controls. The ship suffers from amazing inertia, so as you drag your finger around the screen, the ship struggles to react and glides around - making it insanely difficult to steer through the waves of bullets. I will be emailing the developer to ask if this can be fixed, or at least o add an option to switch inertia on or off. If it had the tight responsiveness of I.S.U.D this would be the best bullet-hell shooter on the iPhone (other than the Cave games ;) The rest of the game is lovely though - lovely simple uncluttered graphics, great frame rate (even on 2nd gen iPod Touch), and some of the most lovely bullet patterns I have seen in a shooter, especially on an iPhone."

Please could you do something with the controls so they are more responsive? ESPGaluda is great, and ISUD is great. Thanks, and please keep up with development of this game!
#7 - WM - 12/15/2010 - 10:09
New controls are FANTASTIC! New review going to iTunes tonight :) Thanks!
#8 -
Nasp
- 12/20/2010 - 13:08
Hello Fabien

The game is very beautiful and i like it very much. The music is also great and the new controls are good. But the game is incredible difficult and there is no option for more easy. Because that, i hope you quick fix the difficult settings it more options :)

But great game, Obrigado.
#9 - Bieger74 - 12/29/2010 - 03:07
Great Shooter!!!
Thanks for this very incredible V-Shooter.I´ve played many shooters, but so an amazing old-school shooter i haven´t seen for a long time. Setting a level of difficulty would have been nice, please by the next update. I´d like to see the last level too. The change of control was a great idea! I hope you earn a lot of money with this game. Keep it up!!!!!!
#10 - Trev - 01/06/2011 - 17:25
really you need to slow down the background scroll speed. As due to it been 3d and so fast just watch that short video it has given me a bad case of motion sickness. (and i dont usually get motion sickness, and have never gotten sick from playing a videogame b4)

If you arnt going to change it, atleast put up a warning on your video and game. (Its that bad)
#11 - Furtin - 04/12/2011 - 02:06
Great Ikaruga-Clone! Can you add "chaining" with bonusscore when you shoot a chain of spaceships? And maybe a green light or a cool sound, when the rockets are available (I count till 5 all the time ...)

Keep on your good work and I hope that you can make some money out of it.
#12 - Arthur - 04/10/2012 - 04:15
The game ends after stage 2...are you going to continue working on it?
@Arthur

Yes there are only two levels for now. It is an indy/self-financed game and unless I sell more copy I will not be able to finance more of it.
#14 -
Fred
- 07/12/2012 - 11:23
Very cool I'm going to try this out. Is there an Android version planned?

How did you go about handling collision detection? Sphere vs sphere and sphere vs capsule type tests?

PS - AWESOME soundtrack from an AWESOME DEMO!
@Fred

The Android version was released two month ago, search for "Shmup Fabien".
The collision detection is all AABB based. You can read most of it since the source code has bee released on GitHub.
#16 - oors - 09/20/2013 - 16:20
bought from Appstore today, really nice..Also your website is awesome and an invaluable resource. Please keep updating (as long as you can afford :))
@2010